The face of breast cancer is often presented in the media by models with beautiful bodies and fake scars. Truth is — it's CTs, surgeries, amputations, biopsies, MRIs, X-rays, radiation, chemo, IVs, blood tests, medications, check-ups, fear, worry, hate, anger, confusion, sadness, loneliness, anxiety, depression, insomnia, and pain. Breast cancer doesn't care if you're a woman or man (men battle it too)… young or old. It could be any of us. It could be you.
Breast cancer is not pretty. And it's no pink ribbon.
If it's a color… it's blue. Because it makes you feel blue to the very core.
There are amazing organizations that raise money for research… but there needs to be more than that. More than ever, we need to come together and support the people going through this horrific cancer process. Taking care of our community, our mothers and fathers, grandmothers and grandfathers, sons and daughters… we need more unity. Cancer patients need to start feeling a little less blue during one of the most challenging experiences of their life.
And that's exactly why Chelsea Berler created this foundation. Welcome. We're glad you're here.
About
Foye Belle
When Chelsea was a little girl she learned about her grandmother's breast cancer diagnosis. It was bad and in her bones. She knew that didn't mean anything good – but thought, "I guess sometimes older people get cancer. That's just what happens to them." Or so she thought. Through it all – her grandmother had so much love and light left in her… and it left a lasting impression on Chelsea's life and the lives of many others. But, Chelsea thought about the suffering and pain she endured. Did she have the support she needed?
No one is safe from cancer.
No matter if you're a man or woman, young or old. It will come out of nowhere, for no reason – and completely rock your world.
It did Chelsea's.
When she started The Foye Belle Foundation, Chelsea was battling Stage 4 Triple Negative Breast Cancer… and was only 33 years old. She'd never had a mammogram, she tested negative for the gene – so it's true, it had come out of nowhere. There's no rhyme or reason for it. It's proven that it's not hereditary… and for Chelsea, we have no idea how this happened (you can read more about her journey at The Huffington Post).
She realized it was all about raising more awareness and supporting those going through the cancer fight. Now more than ever we need a foundation to support those suffering through this massive disease. You have no idea how awful it is to battle cancer until you're in the thick of it… literally fighting for your life.
How can we help? What can we do?
There are a lot of great foundations that serve a bigger purpose of raising money for research and those organizations are so incredibly needed. And sure, there are foundations that support the individual on some level. But is there a place you can go to gift someone a free bag of goodies that will support them in their fight? To remind them they're not alone?
That's where the Blue Bag concept comes into play.
During Chelsea's cancer journey, she was gifted several Blue Bags. The concept is really neat. Whenever you're feeling blue you pull out your blue bag, grab an item, unwrap it, and enjoy with hopes that it will make you feel a little less blue.
We want this Blue Bag movement to bring a smile to someone battling breast cancer, even if it's just for a moment of feeling less blue. The items in a Blue Bag may make a person laugh, be helpful during their cancer journey, or maybe it will be something that will move them forever.
Maybe you just found out your friend or family member has cancer. You're searching Google trying to find the perfect gift to give… just because you don't know what else to do. You want to do something but you have no idea what makes sense in this situation, right?
That's where we come in. We will ship a FREE Blue Bag to those going through some form of treatment. Thanks to our incredible donors and supporters of the Blue Bag movement, you can fill out the request form right here on this page so anyone can come here at any time and request a free Blue Bag be shipped to their friend or family member battling breast cancer.
That's right, it's free. More than anything, we need to support these individuals going through one of the most horrific experiences of their lives. We need to bring love and light to their days when they are feeling the most blue. Cancer can play with your head so much… but the Blue Bag movement will aid in bringing a little 'happy' to their lives just when they need it the most.
We are currently out of Blue Bags at this time, and are planning to pack new bags again soon. In the meantime, please feel free to click the button below to donate if you can so we can keep moving this movement forward.
How do we know this helps?
Because Chelsea personally battled Stage 4 Breast Cancer. She was one of the few that had received so many gifts to help her through the process. While she was so grateful for the outpouring of support — she was equally sad because every single time she walked into the cancer hospital to get her chemo treatment, 90% of the people sitting in the room did not have anyone sitting with them. They did not have a bag full of goodies helping them pass the time and helping them get through the day. Some had nothing. (The below image is an example of what's included in a Blue Bag)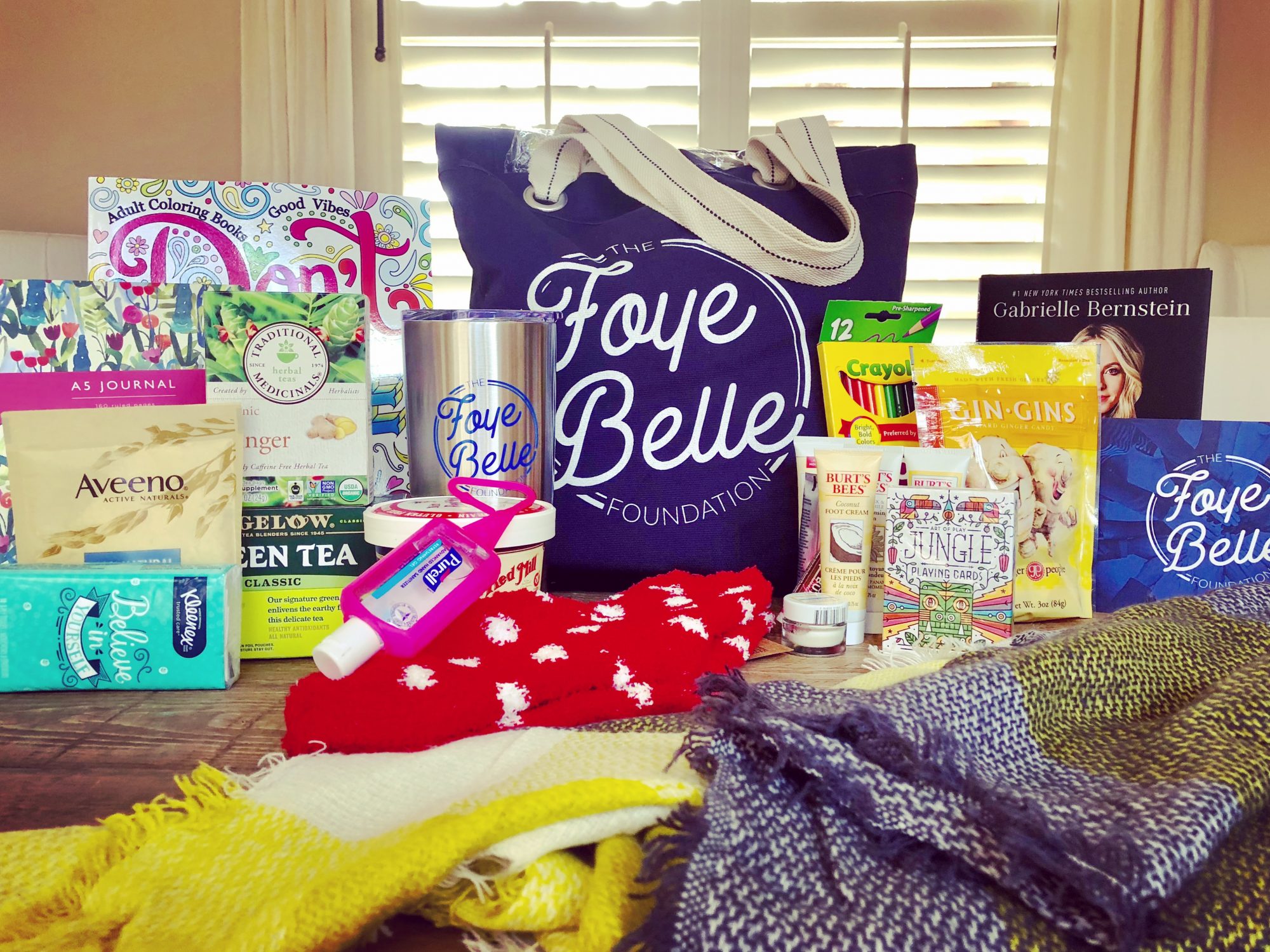 So, she started giving away the stuff that was given to her because she hated seeing people battle alone.
Then, she realized… this was what the world needs more of. Community, unity, and love. Let's make someone's day, let's make sure they have what they need to at least make the time a little less hard.
Let's give them a Blue Bag full of love, hope and support.
We're currently fundraising so we can fulfill future requests, please check back with us again soon!
If you have any questions – as always, contact us at hello@foyebelle.org or simply fill out the contact form at the bottom of this page and we'll get right back to you! Big love. The biggest!
We're working like little elves at the moment to fulfill the next round of blue bags. So, go ahead and put yourself or your friend/loved one on the list and as soon as we have the next round of blue bags ready – we'll let you know before we announce publicly… and you'll be the first to get a blue bag! If you have any questions – as always, contact us at hello@foyebelle.org or simply fill out the contact form at the bottom of this page and we'll get right back to you! Big love. The biggest!
Donate
All of our donations go directly to the source, the very person battling cancer. Our Blue Bags are free and funded by donations.
That's right… our organization is made up of volunteers and 100% of donations go into creating Blue Bags. Everything we do directly impacts the individual in need.
Let's join together and make this movement move people through their cancer treatment. Are you with me?

Join
The Movement
Sign up below to join our mailing list and learn more about how to get involved. We'll send you updates on our donation efforts and short stories about the Blue Bag movement.
Unable to display Facebook posts.
Show error
Error: (#100) Object does not exist, cannot be loaded due to missing permission or reviewable feature, or does not support this operation. This endpoint requires the 'pages_read_engagement' permission or the 'Page Public Content Access' feature or the 'Page Public Metadata Access' feature. Refer to https://developers.facebook.com/docs/apps/review/login-permissions#manage-pages, https://developers.facebook.com/docs/apps/review/feature#reference-PAGES_ACCESS and https://developers.facebook.com/docs/apps/review/feature#page-public-metadata-access for details.
Type: OAuthException
Code: 100
Please refer to our
Error Message Reference
.
This error message is only visible to WordPress admins
Contact
The Foye Belle Foundation
Just saying hi? Simply fill out the form below and it'll go straight to us. Do you want to know how you can help? Maybe you have questions about the donation process or our non-profit organization? Simply fill out the form and we'll be in touch. We are so excited for you to be a part of the Blue Bag movement! Thank you so much for your support!
Did you receive a Blue Bag? We'd love to know what you thought! Let us know!
---
Foye Belle Blue Bag Recipients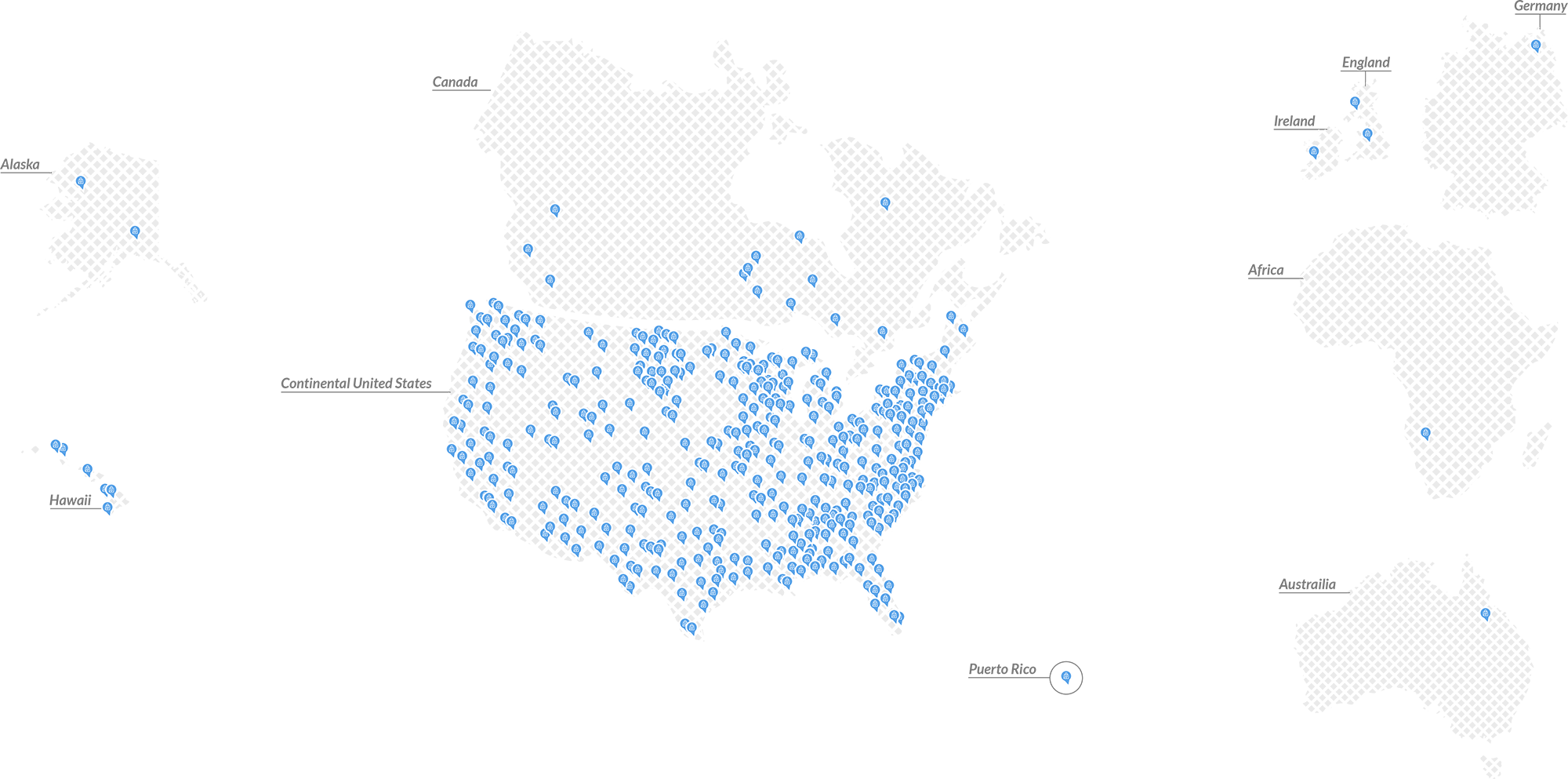 I want to thank you so much for all the wonderful stuff that came! It made my day…whole week! And the timing couldn't have been better, I've been feeling down lately, and it was a wonderful surprise to receive all my goodies.
—Mary
I received by beautiful blue bag from you today. It made me speechless. I'm just so happy and excited to received such a generous gift. It certainly has brightened up my week.
—Lynette
I truly believe that no matter what we are going through we always have the opportunity to inspire and encourage others, and you do just that. I love all of the items in my blue bag!
—Casey
Just received my blue bag today..!!😊 A big THANK YOU. It is so inspiring to know that there is an awesome organization like this to let us know that we are not alone..!!
—Brenda Hitchcox
This package took my mind off of cancer and chemo. I felt like a child on Christmas opening my gifts. It made my day to receive these gifts of kindness and love.
—Maria
My package arrived today and it made my week. As a Metastatic Breast Cancer patient, my fight is constant till there is nothing that will work. My last set of scans showed growth so I will be starting a new chemo. The wonderful items in that bag are all wonderful thoughtful items that will come in handy as I continue to fight. Thank you for such a wonderful gift and to the Team Foye Belle.
—Jackie Greenwald
The bag was filled to the brim with the most perfect and heartfelt things for those of us undergoing chemo and radiation for the cancer. You have touched my life in ways you'll never know and have made my cancer journey brighter and more tolerable.
—Char
Thank you so very much for the Blue Bag! I received it on a day that I was feeling especially blue and it helped make me feel better. I am wearing the beanie now and I'm using the scarf to keep me warm. Again thank you so very much!
—Amber Conner
The first thing I saw was the beautiful bag. I took it out of the box and started pulling everything out, it was so amazing that people I don't even know put so much love and joy in that bag. It brought back my faith in mankind it also made me cry, you have made my day. My surgery is in 2 days and I am so scared but this has brought me some peace.
—Dena
Thank you so much for my blue bag....it just arrived. I had no idea what it was, as I had completely forgotten about signing up (chemo brain!!) Once I opened it I quickly became overwhelmed with gratitude. It is truly one of the nicest things that has happened to me in a long time. Thank you.
—Susie Johnson
I received my bag today when I arrived home from work. I LOVE every item placed in there and I can't wait to start reading my book.
—Catrece
I received my bag this weekend! It was wonderful. I could tell that thought went into the content. It seemed like the decision maker knew what a cancer patient will enjoy instead of it being the generic hospital bag.
—Lorena
I was at a low point wondering how I was going to get through this next round of treatment and was feeling very overwhelmed. The very thoughtful gifts in the bag meant a lot to me. You are doing very special work
—Pam
Chelsea truly touched my life, and her blue bags and legacy continue to mean so much to so many people.
—Casey
Today was a very emotional day for me. I was all in my feelings and then I received this package! So very thoughtful and caring!!! Thank you very much!!! It was packed with so many goodies and the coloring book is my favorite!!! Everything is needed and will be used and cherished!!! Thank you for being a light for cancer fighters!!!
—Sharondalyn
Amazing package you sent my mother. Highly appreciated.
—Steve
If you ever have a loved one going through cancer pleaseeeee read this story, donate and have this wonderful box sent to them. My mom was THRILLED!!! It is so heartwarming!
—Brook
It was such a great big surprise. I love the whole idea of having something to do while you hurry up and wait. The lotions are a godsend.
—Joyce
Your goodies brightened up my world! Got my blue bag yesterday. I was not feeling my best and it made me feel like someone cared! A big thank you for that! Thank you so much!
—Crystal
I'm extremely grateful tonight as I prepare for bilateral double mastectomy on Monday. I thank you all for the amazing gift box. It surely lifted my spirits tonight when I got home from a long day at work. My last day for awhile. Thank you again.
—Monica
I can't tell you how much your blue bag meant for us today. It really was a treat for her to open and savor each beautiful gift. She's very cheered by this and sends LOVE and support to you and fellow cancer warriors.
—Celia
Yesterday was #3 of a/c dense dose. When I got home a package was waiting on me from you. Made me smile. This road is not an easy one to travel. And I know there are people who have to fight harder than I (stage 2c) but this is the hardest thing I've ever done. And raising two small boys isn't as easy as it used to be. Thank you for brightening my day. And for all you do.
—Melissa
Thank you Foye Belle Foundation for my bag of surprises!! Much appreciated coming home from chemo today to find all the lovely goodies you shared with me which will all be put to use!!! My thanks again for your generosity.
—Stacy
Oh. My. Gosh. I received my bag today. It was worth the wait!!! Thank you. I will use each and ever one of the contents. Thanks again!
—Leslie
Thank you so much for my Blue Bag! It's amazing and it really brightened a dark day!!
—Lesa-Rennee
Just finished my 5th round of TCHP on Wed & was having a case of the "Monday's" until my postman knocked on my door & delivered the most amazing & much needed package to me today. My very own blue bag, I love it & everything inside & how it made me feel today 💙
Thank you
—Kristin
I received my bag and can't express the gratitude. Thank you!!
—CB
Wow...today my Foye Belle blue bag arrived and brought tears to my eyes. This bag is amazing and packed full of awesomeness. Thank you Chelsea Berler and @thefoyebellefoundation ❤️🤗
—Karen
I received a blue bag and a box filled with the most thoughtful gifts. I felt so special while opening the box and going through everything. Thank you for making me smile on a dark day. I am blessed to have organizations like you to lift my spirits. Thank you sincerely.
—Susie